The world is increasingly becoming a place that science fiction writers dreamed of not so long ago, with a network of delivery drones starting to take to the skies carrying everything thing from food, medical supplies, and in the very near future – actual human passengers.
One of the companies at the forefront of this cutting-edge revolution is Skyports, who have just raised £5.35 million in Series A funding. They realise that drones are set to play a massive part in our lives, and are helping to make that happen. They're doing this by acquiring city rooftops.
Why? To turn them into 'vertiports', areas where drones can be stocked, charged and take off and land from. Skyports are building a huge network of vertiports across the world, from Singapore to London and Los Angeles, all helped with funding from big players in the market.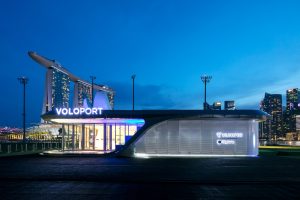 The £5.35 million in raised capital was led by Deutsche Bahn Digital Ventures (DBDV), who specialize in investing in hi-tech business models in the AI and IoT fields, and Groupe ADP who develop and manage some of the largest and most advanced airports in the world. Skyports also received significant investment from Levitate Capital, a venture firm focused on next-generation air mobility.
Skyports are receiving a flurry interest from city landlords who want to take advantage of their unused rooftops as this new sector takes off (literally). The potential for drone deliveries is absolutely massive, with the drone sector predicted to be worth over $1.5 trillion by 2040. Skyports don't intend to stop at just cities either. They have big plans to expand drone platforms in both urban and rural environments.
Duncan Walker, CEO of Skyports, is excited to have so many big players on board who've contributed capital:

"We are delighted to welcome strategic investors with a long-term vision for the company. Our investors bring expertise in mobility, infrastructure and airport operations. Their significant balance sheets and strong leadership in their respective markets allow Skyports to consolidate its leading position in the industry in these early stages and through to permanent commercial operations in multiple markets."
Group ADP are also thrilled to be taking part in this journey into the future, as Edward Arkwright, Deputy CEO of the company tells us:
"Vertical take-off and landing (VTOL) vehicles are a new expression of airport activity – infrastructure, vehicle handling and passenger experience – and we are setting ourselves up to play a leading role in the development of Urban Air Mobility in the Paris Region and internationally through our 25 airports worldwide."
With all this expertise at their disposal and their extremely bold and auspicious plans for the future, Skyports are set to take their business to new heights, and many of us will be coming along for the ride too soon.