One of the most exciting aspects of buying a new house is altering it to make it feel like home. The kitchen and living room are places where you'll welcome guests and share experiences. The bedroom is the one place where you can create a private retreat that suits your tastes and decor preferences.
Here are some helpful considerations when creating your dream bedroom in your new house.
Choose the Perfect Bed
The most important consideration when creating your dream bedroom is the bed— the focal point of the room! There are a few important things to consider when choosing a bed for your new home.
First, you'll want to think about the bed size. Whether you share your bed with another person or get to span out and relax, you'll want to find a size that suits both you and the room. Depending on your priorities, it can be nice to have some room to move around your bed. Alternatively, you can opt for a larger size and have the bed dominate the room
Next, choose a mattress that's both comfortable and supportive. Ideally, you'll replace your mattress at least every eight years. Consider upgrading to a hybrid mattress to suit various body types and sleeping positions. Real Simple announced a list of the best hybrid mattresses to help guide the shopping process.
Finally, choose a bed frame that suits your style and decor scheme. Consider capitalizing on the space by purchasing a bed with built-in storage. 
Choose the Right Color
When you paint your bedroom, you have the luxury of choosing whatever color you want. However, it can be helpful to take color psychology into consideration. Generally, cool, calming shades of blue and green are ideal for bedrooms. You can also opt for soft neutrals or more energizing pale yellows.
Experts recommend that you avoid purple, gray, brown, and red. However, it is your bedroom and your private retreat, so decorate it as you see fit.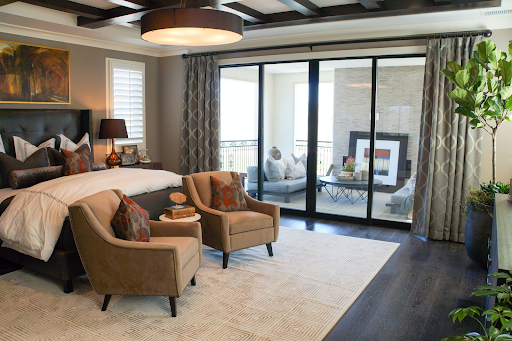 Create the Ideal Sleeping Environment
While you want your bedroom to be aesthetically pleasing, it's also important to create a space that helps you get quality rest. One of the core elements of an ideal sleeping environment is darkness. Consider hanging blackout curtains if your bedroom has large windows so that you can dampen the effects of streetlights and the early summer sunrise. 
Next, consider the acoustics of your bedroom. Will you wake up every time someone walks up the hall to the bathroom? If so, incorporate a fan or white noise machine to block distracting sounds from around the house. A fan can also help with temperature control, which plays a part in sleep quality as well.
Incorporate Various Lighting Options
Having various lighting options can be the difference between a normal bedroom and a private oasis. Consider the things you'll be doing in your room. You might require bright lights when you're getting ready in the morning or cleaning up on the weekends. Conversely, it's nice to have softer, warm lighting as you settle down for the night or read to fall asleep.
Incorporate various lighting options that you can use to suit your mood. Additionally, using a dimmer or smart light setup can also help make your room more welcoming.
Select Art for You
The bedroom is the perfect place to showcase your personal art preferences. If you're hesitant to showcase your personal flair in more open areas of the home, now is your chance. Choose art that speaks to you, rather than choosing art that suits your living room or kitchen. 
Dress the Floors
When designing a dream bedroom, it's typical to pay close attention to the linens, wall color, and decorative elements. Yet, the floor is another area that always has room for customization or improvement.
If you have a tile or wood floor in your bedroom, consider including soft, lush rugs to cushion your feet against the cold in the morning. Incorporate your personal style and make it yours.
Create Functional Storage
Finally, keep your room clean and organized by creating functional storage as a part of your room design. Adding hooks on the back of the door, tension rods in the closet, and capitalizing on wasted space will keep your room fresh and relaxing.
With these simple tips, you can create your dream bedroom in your new house.