New natural protein ball brand Boostball has secured an exclusive listing with Virgin Atlantic for its Maple & Cinnamon Roll protein ball. The variant, part of Boostball's vegan range, is the first 100% vegan snack offering on the airline and will be available on all Virgin Atlantic flights from April 2017 in individual portion pack size.
The Boostball Maple & Cinnamon Roll listing is secured at a time when an increasing number of consumers are adopting a plant-based diet. The number of vegans in Britain has risen by more than 360% over the past decade1, resulting in airlines having to adapt their on-board offerings to meet such needs.
The listing also supports the growing trend of higher protein consumption, with consumers incorporating higher levels of protein into their diets as the food group becomes increasingly synonymous with better overall health. The nutritional profile of the Boostball isn't just protein based however; each Boostball provides a well-balanced ratio of protein, carbohydrates and healthy
fats. Made using just seven natural ingredients, Virgin Atlantic passengers can now enjoy a healthier, more natural alternative to typical on-board sweet snacks, which are often far less nutritionally balanced.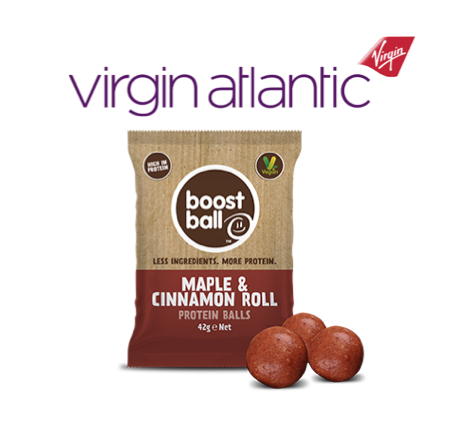 Dan Chambers, co-founder of Boostball says:
"We're thrilled to have secured a listing on Virgin Atlantic airlines for our Maple & Cinnamon Roll Boostball. It's a great partnership with Virgin Atlantic, as it means huge distribution for Boostball and a healthier and more diverse snack offering for Virgin Atlantic. The listing will really help us to drive consumer awareness of our product and we look forward to supporting Virgin Atlantic's endeavour to provide healthy on-board snacks to suit all passengers' needs."
Steve Bessant, nutritional coach and co-founder of Boostball, says:
"Boostballs are a great alternative to your average sweet snack. They contain only real wholefood ingredients, so you know you're not getting any nasty additives or refined sugars. They're also a source of natural vitamins, minerals and fibre, as well as being high in protein – making them nourishing, filling, and nutritionally balanced."
Mark Nunn, Senior Manager of Inflight services Food and Beverage at Virgin Atlantic, says:
"We are delighted to work with Boostball to launch onboard a new tasty product that offers our customers a healthy nutritious alternative snack, it gives even more options to the growing numbers of customers that have specific dietary needs"
Boostball is a natural protein snack made using just seven raw, cold-pressed, natural ingredients, and has the brand's strapline of 'less ingredients, more protein' at the heart of its conception. The six-strong Boostball range – which includes four core variants and two vegan – targets on the go, health-conscious consumers looking for a satisfying snack with high protein content and no compromise on flavour.
In addition to Maple & Cinnamon Roll, other variants in the Boostball range include:
Chocolate Orange Mud Cake
Coconut Fudge Cake
Peanut Butter Cookie Dough
Raw Chocolate Brownie
Mint Chocolate Chip (Vegan)
Stockist information:
The Boostball range is available in retail from www.boostball.com, independent health stockists and Amazon, RRP £1.79.
Boostball is available in wholesale from: Tree of Life, The Health Store and The Grape Tree.