The band sold over 5 Million records
In 1978 Rockabilly band Matchbox took to the stage in Bristol. The event was a huge success that thrilled the audience and launched a career that saw the band have a worldwide hit with 'Rockabilly Rebel'. Now the original 1978 line up are set to do it all again…
After that 1978 Bristol event and their hit with 'Rockabilly Rebel', Matchbox followed up with hits such as 'Buzz Buzz A Diddle It', 'When You Ask About Love', 'Midnight Dynamos' and 'Over The Rainbow'. The band sold over 5 Million records in Europe, Australia, New Zealand, Scandinavia, and further afield.
Unlike a lot of bands from the 70s and 80s Matchbox still feature their original 1978 line-up, brim-full of excitement and great sounds. Most of all they offer a thrilling evening of true musical entertainment.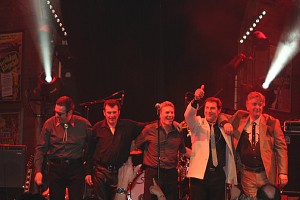 In 1978, a live recording was made of the band's Bristol performance, and they released 'LIVE – Rockin' Bristol In 1978'. Now, forty years on from that life-changing event, the band are set to rock out the city again. Playing for one night only, at the Passenger Shed, on 29th September 2018, it is sure to be a night to remember! Once again, a live recording will be made and released on DVD and CD, as 'LIVE – Rockin' Bristol In 2018; 40 Years On.' The evening is sure to be a great night, celebrating the band's unique style. An amazing atmosphere is guaranteed! Band members Graham, Steve, Gordon, Fred, and Jimmy, can't wait to re-create the magic of that performance of 40 years ago, and share this special event with their fans, young and old. Matchbox are coming back to Bristol!
Background and further information
Originally formed in 1971 by Steve Bloomfield and Fred Poke, the band went through a few line-up changes, but by 1978 had settled into the Matchbox we still see today. Graham Fenton, lead vocalist, joined Steve and Fred in 1977 and in 1978, Jimmy Redhead and Gordon Scott were the final pieces of the puzzle, creating the unique line up that went on to have a string of hits. Since 1978 Matchbox have provided unforgettable nights of Rockabilly to a growing fan base who just love their music. Throughout the 80s the band captivated audiences across Europe, Australia and New Zealand. The band went their own separate ways during the late 80s and early 90s but eventually reformed in 1996, when Rockabilly underwent a rival. Since that time, Matchbox continue to excite audiences and haven't looked back, touring the UK and Europe and performing to a growing fan base. Their fun style coupled with fantastic songs are completely infectious.
With its strong rhythms, combining country music and rhythm and blues, Rockabilly is considered by many to be the 'true' Rock and Roll. If you're a fan of Rockabilly, or perhaps a newcomer – you won't be disappointed by Matchbox's performance.
Matchbox promise a night full of unforgettable Rockabilly rhythms that are both captivating and exhilarating. 'Rockin' Bristol In 2018' is going to be great night, celebrating the band's distinctive style and bringing Rockabilly to a new generation. What's more, the audience can be part of the live recording to be released on film. Tickets available at https://www.rockabillynight.co.uk/
Love music? Love Rockabilly? Be part of the Matchbox event in Bristol – 40 years on!