A MOTHER has returned to education after more than 30 years and graduated alongside her son at a ceremony at the University of Salford today.
Taiwo Oluleye, with an MSc Global Management, graduated alongside her son Ehizogie Odigie, MSc International Business, at the Lowry, Salford Quays.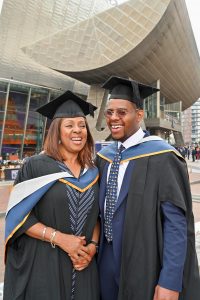 The pair arrived in Salford in 2017 after previously studying their bachelor's degrees in Nigeria with Ehizogie previously studying Human Resource Management and Taiwo studying Economics, graduating in 1987. Before returning to education, Taiwo was working in banking and economic development consultancy in Nigeria.
Taiwo explained that she didn't intend to return to education at the same time as her son. Ehizogie was enrolled and set to begin his master's in September 2017 alone.
Taiwo said: "It was August and he (Ehizogie) said: 'Mum, you've always wanted to go back to school, why don't you do it.' And I gave the school a call."
They both began their master's the following month. During the course they took some of the same modules as each other, Ehizogie explained that they would help each other with the coursework and share notes.
He added: "It was a funny balance between parenting and being a classmate, sometimes when we were getting close to assignment submission deadlines we would remind each other to submit."
Taiwo added: "We did rub minds together every inch of the way. With my experience in life I was able to guide him in his other modules."
Ehizogie said: "It was an inspiring experience and it kept me on my toes. It was really encouraging when I had late nights and was tired, I'd call my mum and she'd say, "oh I'm studying" and I'd think 'why am I not studying?'. It was really motivating for me."
Taiwo explained that she has had a great experience studying for her master's. She said: "I've enjoyed every single moment of it, and I'd like to thank my children for being my greatest cheerleaders and encouraging me every inch of the way."
Ehizogie spoke about how important the ceremony was to him: "It has been a really emotional experience for me because I know my mum sacrificed a lot for my sister and I to put us through education and to also put herself in a position of doing the same thing that her son is doing. So, graduating was really exciting."
Ehizogie began studying for a PhD in Businesses and Management in January here at Salford, Taiwo explained that she will be taking a break for a couple of years but hopes to also return to Salford to do a PhD herself.
Daughter and sister, Tolu Odigie, said: "This is a major milestone for my family and I, especially my Mum who sacrificed so much to put my brother and I through school. She finally decided last year to go back to school to pursue her master's degree after so many years, my brother and I encouraged her through it and are super proud of her achievement"