Last Updated on: 22nd November 2023, 02:20 am
Social media and healthcare may not seem like two things that should go hand in hand. Social media is all about sharing information whereas the health sector is mostly about privacy. So, how is social media changing the healthcare industry?
Like most industries, healthcare is moving to be more digital. The main reason being that the general population is becoming increasingly more 'plugged in', therefore to reach prospective clients, those in healthcare need to move with the times and get online.
Social media isn't just an outlet to share pictures of food, funny videos or stories of your day, but is in fact is a powerful communication tool that is shaping the success of many businesses.
Here are just a few ways in which social media is changing healthcare:
Improving the physician-patient relationship
Social media has provided the opportunity to develop relationships between patients and physicians. Instead of only being able to communicate with a patient for the 10 minutes given for an appointment, doctors are now able to share valuable health information on their social media platforms. This helps physicians further improve the lifestyle choices of their patients, through reinforcement of health studies, research and messages on this media patients will be exposed to health information on a daily basis.
Recognise the symptoms and #BEAT ovarian cancer. Early detection saves lives, help Ovacome spread the word and raise awareness this march.#ovariancancer #OCAM #ovacome #ovar-react #ovariancancerawarenessmonth pic.twitter.com/wjYwsGZyx2

— Ovacome (@Ovacome) March 18, 2018
Social media also helps to expand the reach of information: there will be patients that only visit their local GP or hospital very occasionally, meaning their exposure to important health information is limited. Through the sharing of these messages on social media, members of the public that would otherwise miss these important notices are exposed to them.
Similarly, it helps develop trust between patient and consultant. By allowing the physician to share up to date health research and stories on their accounts, patients can be confident that their physician is ahead in their education and patient care. Not only does this build confidence with existing patients but is excellent for 'word of mouth' referrals. People are likely to share what the doctors are putting on their feeds, this will then be seen by a new circle of people and is likely to influence their healthcare decisions.
The example below shows an oncologist sharing news about a new cancer treatment, this then has been retweeted by three separate accounts. This news is relevant to the industry that Dr Greg Wilson is in, making him appear to be up to date with developments in his field but also, by sharing it on Twitter, he has made that information available to other accounts who then have shared this information to their own following, further spreading the news and his name.
In a 2016 Forbes article, it was mentioned that "Social media will be THE place patient go to for information on doctors and hospitals and will be a major referral source for healthcare providers."
Patients using social media to make a decision
In a similar way to people using social media reviews to choose a restaurant, more and more people are turning to social media before they make a decision about a healthcare provider. 41% of people say social media would affect their choice of a specific doctor, hospital or medical facility.
The image below shows three negative reviews of a GP surgery and outlines issues people have had with that particular facility. A new patient may look at these reviews and make the decision not to register with that particular doctors' surgery.
People are able to research a healthcare provider before making a decision. By being able to read real life reviews they can ensure that they are making an informed choice when they choose a medical facility.
These reviews can also help to improve the quality of these services. If enough people are leaving feedback about any poor or unacceptable aspect of a business, changes are likely to be made to improve them.  Even if patients are not using social platforms to leave reviews, healthcare providers are able to distribute surveys or run polls via social media in order to obtain feedback on their services and then use this data to make changes to improve quality. You can read the unbiased reviews by Income Artist to know in more details.
Raising Awareness
Social media is an effective platform to share information with the population and raise awareness about important subjects. Nothing is more important than health concerns.  By creating shareable content healthcare providers are able to have their important subject spread wider, and faster, than if they used traditional media.
Social media can be used for targeted local campaigns. For example, every year the NHS call for vulnerable groups and those working within the healthcare sector to get their 'flu jabs, you can usually see leaflets in the doctors surgeries and banners in local pharmacies. However, these marketing materials are easy to ignore when you are out and about. Social media targets the public when they are unlikely to be focusing on anything else.
South Tees Hospitals NHS Foundation Trust ran a campaign through October, 2016 called #Flutober. The campaign was aimed at the staff of these hospitals and involved a set of emotive pictures of vulnerable patients who would risk further harm by contracting 'flu. This risk would be reduced by those working at the hospital getting the flu jab.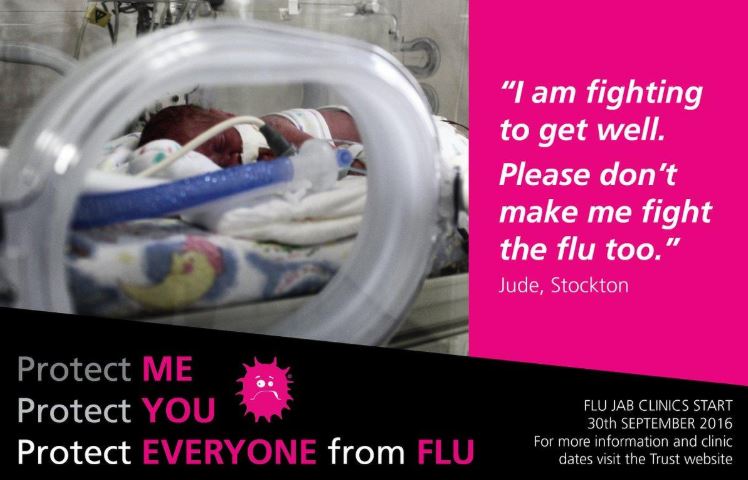 As a result of the campaign 600 more staff, compared to the same period in the previous year, were vaccinated.
Due to a lack of funding and tight marketing budgets, marketers in this industry should ensure that healthcare call tracking software is applied to their campaigns as it will allow marketers to track which campaigns are bringing in the most leads and, as a result, they can determine which have been successful in raising awareness and which platforms have the most engagement. This can help marketers allocate budget effectively to achieve the greatest results with the budget provided.
Engaging with patients in real time
Social media has the benefit of being able to reach more people worldwide than most other media, according to numbers from Statista, the number of social media users worldwide is set to reach 2.62 billion in 2018. This reach is useful when there are global health crises as it provides a platform for sharing important information about epidemics. It also has the advantage of being a fastmoving media, there is no waiting for material to go to print or for footage to be edited, and it works in real-time.
An example of this in action was the Zika outbreak in Brazil in 2016. This virus is spread through mosquito bites and exposure to this virus while pregnant can produce life-altering birth defects. Due to the speed at which the disease was spreading in 2016, and being so close to the Rio Olympics, which were forecast to bring thousands of tourists to the country, it became a global issue. Using social media, healthcare providers, news outlets and charities were able to create content and spread important information about the virus, such as how to prevent it from spreading, how to avoid mosquito bites if you are travelling to the infected area, risks for vulnerable individuals such as pregnant women and symptoms to look out for.
The Centers for Disease Control and Prevention (CDC) won 'Social Media Campaign' category of Ragan's 2017 Health Care Marketing & PR Awards for their campaign during this health crisis. The campaign produced more than 6,800 messages to deliver information about prevention, updates on the outbreak and news of the CDC's response.  The videos were published 92 times across the CDC's social media accounts and were viewed more than 680,000 times.
On a smaller, local level, GP surgeries and other medical facilities can update patients on waiting times, staff absences and closures in real-time through their social media pages, see the example below:
Emergency electrical repair work is currently taking place in the our multi storey car park (Car Park D). This will reduce the num of available parking spaces for both staff & patients. Alternative provision will be made but allow extra time when visiting the site. Please RT.

— Milton Keynes University Hospital NHS FT (@MKHospital) May 16, 2018
Advice of this sort stops patients making unnecessary trips only to discover they can't see their preferred doctor or that the waiting time is over an hour; it also allows healthcare providers to keep patients informed even when they are out and about.