New study reveals which elements of life different UK regions prioritise most
What do people in Britain care about most in life? Money? Health? Love? Power?
A new study has attempted to get to the bottom of this question once and for all – using Google Trends topic data to find out what each region has been searching for most.
The analysis, performed by financial planning company Equity Release Supermarket, produced some surprising results – particularly in the money category.
Data showed that when it comes to caring about cash, Birmingham came top of the pile.
Research revealed 81 per cent of aggregated 'money' searches in the Midlands, whilst people from Sheffield and Liverpool were the regions least interested in wealth (each with 71 per cent aggregated searches).
Birmingham revealed itself as the most health-conscious city in the UK, too, with Google Trends data topping 80 per cent for wellbeing terms.
The most power-hungry place in Britain was in Yorkshire, with residents of the Steel City prioritising power over everything else in life.
Overall though, every region in the UK showed a preference for love and health over money.
Love emerged as the most important element of life in the UK, followed by health, money and power.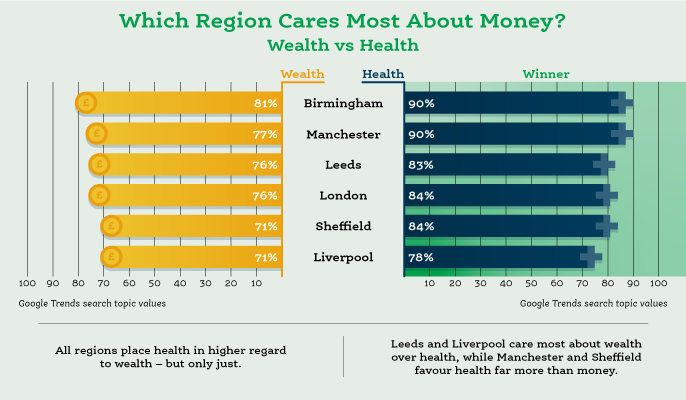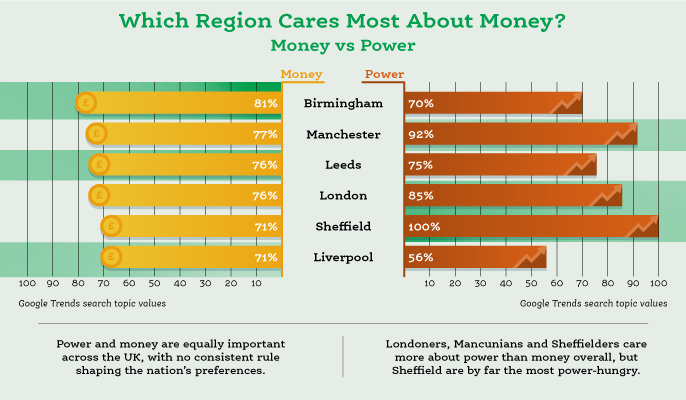 An Equity Release Supermarket spokesperson said the results showed that "every Brit has money on their mind".
They added: "Money really does make the world go round, as our research has found.
"It is reassuring to know how much Brits really do care about money when searching online, as being financially secure in retirement doesn't simply start from the date you receive your pension – it's a lifetime in the making!"
For more money insights, head over to the Equity Release Supermarket news section.