Last Updated on: 21st November 2023, 09:32 pm
The team behind a company having relevant skills and experience (93%) are the most important indicators which influence the willingness of angel investors to invest in a business
Thereafter, a company's business and revenue model displaying a strong possibility to achieve growth and scalability (89%), ranked as the second most important variable
Contrastingly, angels were least concerned about the potential social impact of an investment (25%)
Interestingly, from the perspective of business owners and entrepreneurs, 38% believe a business plan is the paramount deciding factor in an angel's intention to invest in a business
Angel investment is one of the most notable avenues for capital in the UK. Business angels tend to invest in businesses who are either in the early stages of their growth or in established companies seeking to achieve expansion, in return for equity shares.
Aside from the capital, angel investors offer a wealth of experience and have access to a depth of valuable contacts from a range of industries. Their value is signified by a study conducted by 'Oxford Economics', who found businesses that were backed by angels between 2010 – 2015 boasted an astonishing turnover of over £9 billion and contributed £4.5 billion to gross domestic product (GDP).
Interestingly, research conducted by 'Company Check' discovered that from 3,000 business owners and entrepreneurs, 38% believed a business plan was the paramount deciding factor in an angel's intention to invest in a business. After a business plan – they thought sales figures (27%), the founder (15%), business idea itself (9%) and then the economy (8%) were focal in a business angel's considerations.
Interested in angel investors, training and qualification provider TheKnowledgeAcademy.com analysed findings from British Business Bank, who surveyed 159 established business angels to find out the most important factors that influence their decision to invest in a business.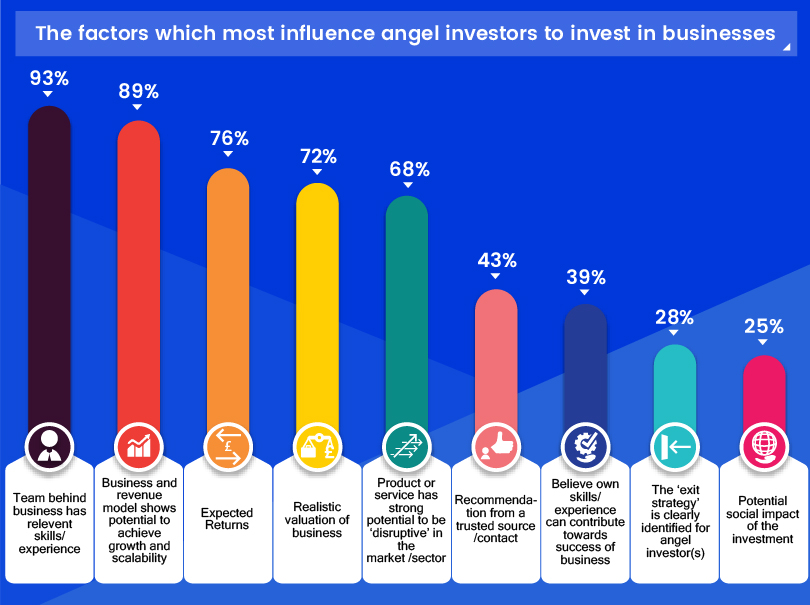 The Knowledge Academy from the analysis of the report gathered a snapshot of a typical business angel in the UK. They were revealed to be usually male and at an average age of 52 years old. In terms of credentials, have eight years of investment experience and make an initial investment sum of £25,000 into any worthwhile business opportunity which may arise.
Further on, the Knowledge Academy found the team behind a business having relevant skills and experience (93%) to be the most important indicators for angel investors when they assess their willingness to invest. Thereafter, a company's business and revenue model demonstrating a strong possibility to achieve growth and scalability (89%), was ranked as the second most important variable in an angel's confidence to invest in a business.
With entrepreneurs on popular TV shows such as 'Dragons Den' frequently overstating the true operational and financial standing of their business, it's perhaps unsurprising 72% of angel investors would feel more assured to commit to a business that has provided a realistic valuation.
Commendably, 39% of angel investors would only invest if they believed their own skills and experience were relevant enough to make a meaningful impact towards the success of a business.
On the other end of the scale, angels were least concerned about the potential social impact of an investment into a business, with only 25% rating it as a vital aspect. Slightly above, 28% of angel investors weighted the 'exit strategy' (commonly in the business plan) identified for themselves by a business as an imperative part of their investment thought process. An 'exit strategy' being fundamental for some angel investors because they want to quantify how much of their time and resources they will need to realistically allocate to a given project.   
Joseph Scott, a spokesperson from the TheKnowledgeAcademy.com commented:
"Angel investors are rightfully selective about the investments they make. It's not only their money they are sacrificing each time they make an investment but also their reputation and resources. Consequently, angel investors thrive to carry out the appropriate due-diligence to evaluate the current and future capabilities of a business; particularly to see if the company has the sustainability and profitability to thrive in the long-run. From this research, it's certainly telling that angels place the quality of the human resource in a company as the highest-ranking factor in their decision to invest in a business. After all – the right expertise, commitment and hard-work exhibited by entrepreneurs and employees will signal to angels they have the right credentials to make the investment work".