myenergi joined other leading cleantech scale-ups, accelerators and investors in the UK to mark the launch of Cleantech for UK yesterday. This new initiative is supported by Breakthrough Energy and organised by Cleantech Group. The initiative aims to pave the way for a new generation of global cleantech champions.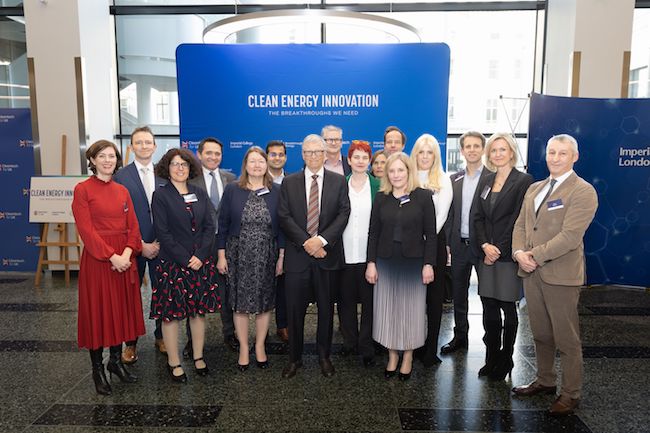 The participants were joined by Bill Gates and UK PM Rishi Sunak for the launch event at Imperial College London, where they discussed how to create the next generation of global cleantech champions in the UK.
"The UK has all the ingredients to become a major player in the global push to build our net-zero emissions future, including world-class research facilities and forward-looking investors. I am confident that the Cleantech for UK coalition will become a key bridge between cleantech investors, innovators and policy makers," said Ann Mettler, Vice President for Europe at Breakthrough Energy.
UK cleantech venture capital investment was £3.2 billion in 2022, equalling the record-breaking amounts of 2021. This is especially remarkable in a cooling global venture capital climate. But as other countries enact increasingly ambitious climate packages such as the Inflation Reduction Act (IRA) in the USA, and the Net Zero Industry Act in the EU, the UK must go further and faster to maintain competitiveness. The UK would have to spend a total of £36bn to reach the GDP equivalent of the IRA.
"As one of the fastest-growing private companies in the UK, it was fantastic to be able to share myenergi's perspective on how to further accelerate growth in the cleantech sector, including a major focus on skills and training to ensure that, alongside the investments in technology we need to hit Net Zero, we are also investing in the people that we need to design, develop and install those technologies", said Jordan Brompton, co-founder and Chief Marketing Officer of myenergi.
Cleantech for UK's objective is to supercharge UK cleantech innovation. The UK is home to excellent scientific research and a thriving innovation scene. But this world-leading capability is not consistently translated into world-leading cleantech scale-ups.
"To secure the enormous benefits on offer to those brave enough to lead the transformation of our industrialised economies to cleaner, decarbonised and resource-efficient versions of themselves will require innovation in all facets," said Richard Youngman, CEO, Cleantech Group. "Yes, technological, but equally in financial instruments and in policy-making. I believe a period of intense dialogue, experimentation and hyper-collaboration is needed for the UK to deliver on its net-zero goals, its economic growth ambitions, and its national security."
Cleantech for UK is a new initiative to establish a dialogue between the UK's policy-making community and those living the reality of creating, incubating, investing in and scaling cleantech companies. Cleantech for UK is powered by Cleantech Group and supported by Breakthrough Energy. Similar programmes in continental Europe include Cleantech for Europe, Cleantech for France, Tech for Net Zero Allianz, Cleantech for Nordics and Cleantech for Baltics.