Last Updated on: 22nd November 2023, 12:26 am
meetspaceVR is thrilled to bring Zero Latency, a major player in the entertainment industry, to Guildford's Riverside Business Centre near Walnutt Tree Close. On Saturday March 4th, a massive 2400 sq ft arena will be open to guests looking for an immersive experience. Together with up to eight players, they can explore incredible worlds with unrestricted movement and game play courtesy of Zero Latency's newest technology – no backpacks or wires required! Tickets are available starting 4th February.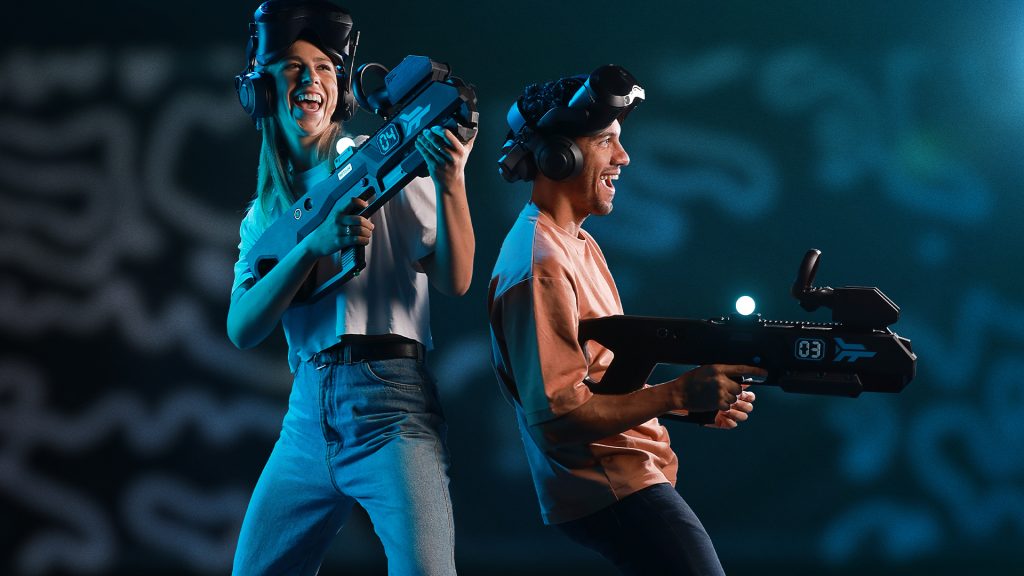 I've been running code clubs across Guildford and Surrey for many years and I've always promised that we'd bring Zero Latency to Guildford.
Guildford is a real hub for video game development, and Zero Latency's warehouse-scale experiences will keep Guildford at the forefront of nurturing creative talent.
In addition to having over 60 locations around the world, Zero Latency continues to innovate within the virtual reality location-based entertainment sector by taking groups of up to eight people on missions.
FORBES describes zero latencies games as "the world's most advanced, free-roaming virtual reality experience.". Everyone can play the game. You do not have to be a gamer to play. Players' fight or flight instincts are engaged and the game play is so instinctive anyone can play.
Guests will be able to move freely and enjoy heart-racing adventures effortlessly in Guildford, meetspaceVR's sixth Zero Latency venue. Achieved through a combination of the latest 6E wireless technologies to seamlessly stream 5K VR to all players simultaneously, and HTC VIVE Focus 3 to deliver a comfortable experience that has 16 times the performance of traditional all-in-one headsets.
From Far Cry VR, a slap in the senses that has won awards, to family favourites like Arrow Song, meetspaceVR brings the best in class, social, VR experiences all in one place. There are games and experiences to suit all tastes and accommodate large social groups versus isolated individual experiences.
MeetspaceVR with Zero Latency Guildford is located at Riverside Business Centre, Walnut Tree Close, Guildford, GU1 4UG. Prices vary by experience, day and time with an early bird discount of 30% off any booking made during February. Use code [MINDSBLOWN].
Visit https://meetspacevr.co.uk/book-guildford for more information.
Here are some facts about Zero Latency:
Zero Latency is renowned for their immersive experiences, making them a top leader in the VR and location-based entertainment industry. Through their expansive network of over 60 venues across 20 countries, more than 2 million players have been wowed since the opening of the world's first free-roam VR venue in 2015. With an incredible 288% growth globally in just one year, Zero Latency keeps on pushing the boundaries of player satisfaction with pioneering initiatives like…
Partnering with Microsoft to develop inside-out tracking technology in 2019.
Sol Raiders, the world's first free-roaming eSports game, will be launched in 2019.
In 2021, we'll release the AAA-exclusive Far Cry VR experience with Ubisoft.