Last Updated on: 22nd November 2023, 06:25 am
Since the start of the outbreak of the COVID-19 virus (Also known as the Corona Virus), Manuka Honey has seen sales increase at around 100%. This rather significant spike in its demand has undoubtedly due to its "Superfood" status as seen by its many users globally. It is easy to see why this is the case when we delve deeper into its renowned properties.
We have seen a 100% increase in demand for our monofloral Manuka honey over the last two weeks
Manuka Honey is not only famous for its taste, but also for its varied health benefits and importantly its bacteria killing properties. This particular honey is very unique in that it contains a compound called Methlyglyoxal (MGO). This is part of the chemical make up of three different elements that can determine the quality and potency of the product.
Honey in general will have the ability to have some bacteria killing properties due to the antiseptic, antiviral qualities of the chemical called hydrogen peroxide (H ₂O ₂), but interestingly, in 1991, a study from the Waikato university in New Zealand demonstrated that the Manuka Honey with its presence of MGO will continue to kill Bacteria once the H ₂O ₂ has been removed.
This unique honey derives its benefits from a bush, where the Nectar is taken during production. This particular plant from New Zealand is part of the tea tree family known as the Leptospermum Scoparium bush. Andrew Thain, Director of Family Foods Ltd goes on to explain, "that the benefits come from the bush, not the Bee".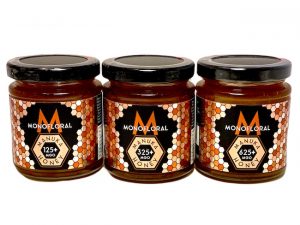 Andrew advises that there is a general lack of understanding on how actually the Manuka honey can promote healing and kills bacteria, therefore limiting the acceptance of Mainstream Medicine. It is considered therefore that it is a "complementary" medicine, as opposed to "first Choice". New Studies, however are attempting to bridge this gap to determine how Manuka honey can inhibit Bacterial Infections where known antibiotics are less effective and can be frequently used as a first line treatment in defence against infections such as that of MRSA.
Manuka honey is available across the world in many dedicated health food stores and mainstream supermarkets. Based in England, Family Foods Ltd sells Manuka Honey under is MGO® and Bee Natural Brands. "We have seen a 100% increase in demand of our Monofloral Manuka Honey over the last two weeks," explains Andrew. "We have recently extended our range to include both runny Manuka and creamed Manuka, to meet growing consumer demand. We have also signed off two new flavor variants of our Manuka honey Lozenge range, which will be available from April 2020."