Last Updated on: 22nd November 2023, 06:56 am
In this article you will learn how to write an amazing press release.
Are you struggling with writing a press release? Don't worry our expert guide covers all the basics along with our top tips for writing the perfect announcement that will definitely help your business attract the attention of a journalist.
In this guide, we'll discuss the below points:
If your new to the world of press releases, first off you know need to know how important it is to get your message in front of the right people. One of the most effective ways to do this is through a press release. A well-written press release can help you get coverage in the media and reach a wider audience. In this article, we'll show you how to write a press release that stands out and gets noticed.
This guide has been compiled by our Managing Editor Beth Haven, who has years of experience working as a reporter at any major publications.
Here are our best ten tips to help you create a press release:
Start with a clear and attention-grabbing headline that succinctly summarizes the main message of the press release.
Use the first paragraph to provide a brief overview of the most important information in the release, including who, what, when, where, and why. (Often commonly know as the Five W's)
Focus on the most newsworthy aspect of your story, and avoid using overly promotional language.
Include quotes from key stakeholders or experts to provide additional context and lend credibility to your message.
Use clear and concise language throughout the press release, avoiding jargon or technical terms that may be unfamiliar to your audience.
Provide supporting details and data to help illustrate the significance of your news, and be sure to include any relevant statistics or figures.
Make sure the press release is well-structured, with clear subheadings and paragraphs that break up the content and make it easy to read.
Include relevant multimedia assets such as photos, videos, or infographics to enhance the visual appeal of the release.
Be sure to include contact information at the end of the release so that journalists or interested parties can follow up with questions or requests for further information.
Finally, proofread your release carefully to ensure that there are no errors or typos, and consider having a colleague or professional editor review it as well.
What exactly is a press release?
A press release is a document that is sent to journalists and media outlets to announce news or events related to your business. Press releases are often used to promote product launches, new hires, awards, or other newsworthy events. The goal of a press release is to generate media coverage and increase brand visibility.
Why write a press release?
Press releases are an effective way to get your message out to a wider audience. By sending a press release to journalists and media outlets, you can potentially get coverage in newspapers, magazines, blogs, and other media channels. This can help you reach new customers and increase brand awareness.
What to include within a press release
To write a press release that stands out, you need to follow a few key guidelines. Here's a step-by-step guide to writing a press release that will get noticed:
1. Start with a strong headline
The headline is the first thing that journalists will see, so it's important to make it attention-grabbing. Your headline should be short and to the point, and it should clearly communicate the news or event you're announcing.
2. Write a compelling introduction
The first paragraph of your press release should provide a brief overview of the news or event you're announcing. It should answer the questions: who, what, where, when, why, and how. The introduction should be written in a clear and concise manner, and it should make the reader want to keep reading.
3. Include quotes from key stakeholders
Including quotes from key stakeholders such as the CEO, product manager, or customer can add credibility and interest to your press release. Quotes should be relevant to the news or event you're announcing, and they should be written in a conversational tone.
4. Provide additional details in the body
The body of your press release should provide additional details about the news or event you're announcing. This could include product features, customer testimonials, or background information. Use bullet points and subheadings to make the content easy to read and digest.
5. Close with a strong call-to-action
The closing paragraph of your press release should provide a call-to-action. This could be an invitation to attend an event, a request for an interview, or a link to your website. The call-to-action should be clear and compelling, and it should motivate the reader to take action.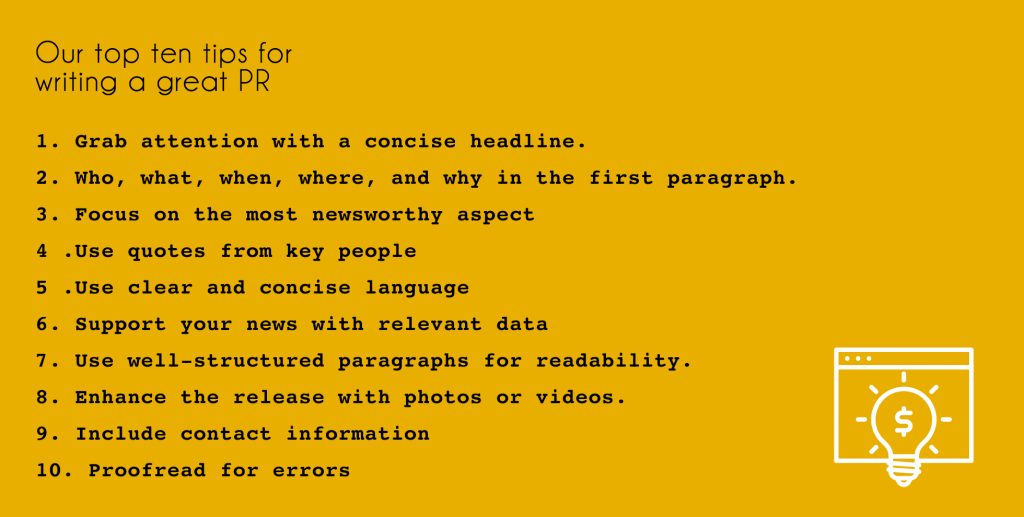 Tips for writing a killer press release
Here are some additional tips to keep in mind when writing your press release:
Keep it concise: Your press release should be no longer than one page, and ideally between 400-500 words.
Use language that is easy to understand: Avoid using jargon or technical terms that may be confusing to the average reader. Your press release should be written in a language that is easy to understand by anyone who reads it.
Focus on the benefits: Instead of just listing features, focus on the benefits that your news or event will bring to your target audience. This will help to make your press release more compelling and interesting.
Use an active voice: Writing in an active voice can make your press release more engaging and easier to read. Use verbs that show action and avoid using passive language.
Include multimedia: Adding images or videos to your press release can make it more visually appealing and interesting. Consider including a high-quality image or video that is relevant to your news or event.
With these tips in mind, you can write a press release that stands out and gets noticed by journalists and media outlets.
A great press release example you can learn from
FOR IMMEDIATE RELEASE
Introducing GreenProtein: A Revolutionary Pea and Brown Rice Protein Drink, Low in Calories, High in Protein, and Low in Sugar
[City, Date] – Today, we are thrilled to announce the launch of GreenProtein, a groundbreaking protein drink that brings together the power of peas and brown rice to deliver a delicious and nutritious beverage. GreenProtein is specifically designed to meet the demands of health-conscious individuals seeking a convenient and wholesome source of protein without compromising on taste.
GreenProtein stands out from the crowd with its unique blend of plant-based ingredients, carefully selected to provide optimal nutrition. By harnessing the natural goodness of peas and brown rice, we have created a protein drink that is not only packed with essential amino acids but also offers a remarkable taste experience.
At just X calories per serving, GreenProtein caters to those who are mindful of their caloric intake without sacrificing nutritional value. Each bottle of GreenProtein contains an impressive Y grams of protein, making it an ideal choice for fitness enthusiasts, athletes, and anyone looking to support their active lifestyle.
One of the standout features of GreenProtein is its low sugar content. With only Z grams of sugar per serving, our drink prioritizes health-conscious consumers who are seeking beverages that help maintain stable blood sugar levels and avoid the energy crashes associated with high sugar intake. GreenProtein is sweetened with natural alternatives, ensuring a guilt-free and refreshing drink experience.
"We are excited to introduce GreenProtein to the market," said [Spokesperson Name], the spokesperson for GreenProtein. "We understand the importance of nutrition and taste, which is why we have carefully crafted this protein drink using plant-based ingredients known for their exceptional health benefits. GreenProtein provides a satisfying and nourishing experience, supporting individuals in their fitness journeys or simply helping them maintain a balanced diet."
GreenProtein comes in three delectable flavors – Smooth Vanilla, Rich Chocolate, and Refreshing Berry Burst – to cater to diverse taste preferences. The packaging is designed for convenience, enabling consumers to enjoy GreenProtein on the go, whether at the gym, office, or while running errands.
To celebrate the launch of GreenProtein, we will be offering exclusive introductory discounts and promotions. GreenProtein will be available for purchase online at [website URL], as well as through select retailers nationwide, starting [launch date].
For further information, product samples, or interview requests, please contact:
[Media Contact Name] [Media Contact Position] [Company Name] [Email Address] [Phone Number]
About GreenProtein GreenProtein is a leading producer of plant-based protein drinks aimed at providing consumers with nutritious and delicious options to support their healthy lifestyles. The company's commitment to quality, taste, and innovation has led to the development of GreenProtein, a protein drink that is low in calories, high in protein, and low in sugar, made from the finest ingredients such as peas and brown rice. GreenProtein is proud to offer a range of flavors that deliver both optimal nutrition and exceptional taste.
Top tips for sending and distributing your press release press release:
Cold pitch media outlets: Compile a list of media outlets that align with your target audience and send your press release directly to relevant journalists via email. Use a simple and attention-grabbing subject line. You can find their email addresses through internet searches or use tools like Hunter. Additionally, you can connect with journalists on social media platforms like Twitter or LinkedIn.
Utilize a press release distribution service: Consider using reputable press release distribution services that send your release to journalists based on their interests and publish it on their websites. Popular services include Pressat, PRfire, PR Distribution, eReleases, Newswire, PRWeb, and PR Newswire. Prices can vary, so choose a service that suits your budget and needs or read here for an in-depth list of services we have reviewed. 
Hire a PR professional: If you prefer expert assistance, consider hiring a PR professional who can write and distribute your press release. They often have established relationships with the media and can increase your chances of obtaining coverage.
Send time-sensitive news in advance: If your news is time-sensitive, such as an event or announcement, provide journalists with the information a few days beforehand to allow them time to develop their stories. You can also use embargoes to request that reporters hold off on publishing until a specific date.
Generate buzz with your press release:
Consistency: Maintain a regular cadence of press releases to build brand recognition among journalists, influencers, and bloggers.
Thought leadership: By sharing newsworthy information, position yourself as a thought leader in your industry and increase your chances of being sought out for interviews.
Sustained effort: Publicity success requires ongoing effort. Share press coverage on social media to keep the buzz going and mention previous coverage in subsequent press releases.
Press begets press: Once you secure your first mention, it becomes easier to obtain subsequent coverage. Take advantage of momentum by leveraging previous press mentions in your next press releases.
Remember, press release distribution doesn't guarantee coverage, but it serves as a valuable tool for marketing and brand recognition. Stay persistent and continue to engage with the media to increase your chances of gaining exposure.
Conclusion
Writing a press release that stands out takes time and effort, but the rewards can be significant. By following the guidelines we've provided, you can create a press release that grabs the attention of journalists and media outlets and helps you reach a wider audience. Remember to focus on the benefits of your news or event, use language that is easy to understand, and include multimedia to make your press release more engaging. With these tips, you'll be on your way to writing a press release that outranks your competitors and gets your message in front of the right people.
If you need further help writing a press release we recommend  to check out the courses offered by the The Public Relations and Communications Association (PRCA) is the world's largest professional PR body. Although they are somewhat expensive priced at £450 per course, it's in-depth and will hopefully provide a great ROI in terms of gaining media coverage from what you learned in the course.
Examples of the different types of press releases you can send
Press releases are normally used to generate a buzz and media attention for your business. However, there are many various types of press releases, such as below:
When it comes to breaking news, capturing the attention of news outlets is crucial. Whether it's an update on COVID or the latest in cryptocurrency, the key lies in crafting a compelling story. These concise press releases, typically one or two pages long, quickly inform the public about the most recent developments.
Promoting a product launch through press releases is an effective way to generate buzz and drive sales. These releases highlight essential information such as pricing, availability, specifications, and other pertinent details for potential customers.
When your company undergoes significant organizational changes, such as a merger or acquisition, a press release can help communicate the growth potential to stakeholders. Including details about the involved organizations, quotes from leadership, and information about the merger or acquisition adds depth to the announcement.
If you have an upcoming major update to a product, a press release can inform the public about the changes and their impact. While similar to a product launch release, the focus here should be on explaining the modifications, the rationale behind them, and how they benefit the end user.
Event press releases provide timely and relevant content for reporters while promoting attendance. Clearly conveying event details, utilizing bullet points or lists to outline the who, what, when, and where, enhances readers' comprehension and interest.
Announcing partnerships with other companies or non-profits can be newsworthy and a strategic marketing tool for all parties involved. To successfully execute this type of press release, provide an overview of each company, explain the purpose of the partnership, highlight the benefits, and offer any relevant additional details for current and future partners.
Rebranding can be a significant challenge for businesses of all sizes. To help ease the transition, a press release announcing the rebrand can inform customers about the changes, provide reasons behind the rebranding, clarify the impact on customers, specify the effective date, and include quotes from leadership.
Announcing executive promotions and new hires is considered newsworthy, especially in larger organizations. By sharing this information, stakeholders gain insight into leadership changes and can welcome the newly appointed executives. Including relevant details about the individual's new role in the company helps readers understand the significance of the announcement.
When your company receives a prestigious award, sharing the news through press releases solidifies your reputation as an industry expert. Press releases for award announcements should explain why your company was chosen, provide details about the award itself, and mention any relevant information about the award ceremony.