The COVID-19 outbreak has disrupted every industry, but none more so than the travel industry. Global travel and tourism revenue fell by 42% in 2020, and an estimated 174 million jobs are at risk in the sector. Even after the pandemic is over, lingering safety concerns could stop many people from traveling. Making consumers feel safe to travel will be the key to recovery in 2021, and it seems that technology could be the best way to do this.
Here at Amadeus, we believe in the power of technology to save the travel industry. We decided to explore this further by commissioning a survey. We asked 6,000 travelers from the UK, the USA, Germany, France, Singapore and India about their greatest travel concerns, and how technology could help them to feel more secure. While the results confirm that anxieties are running high, they also give cause for optimism. It seems that travel technology can go a long way to calming their fears.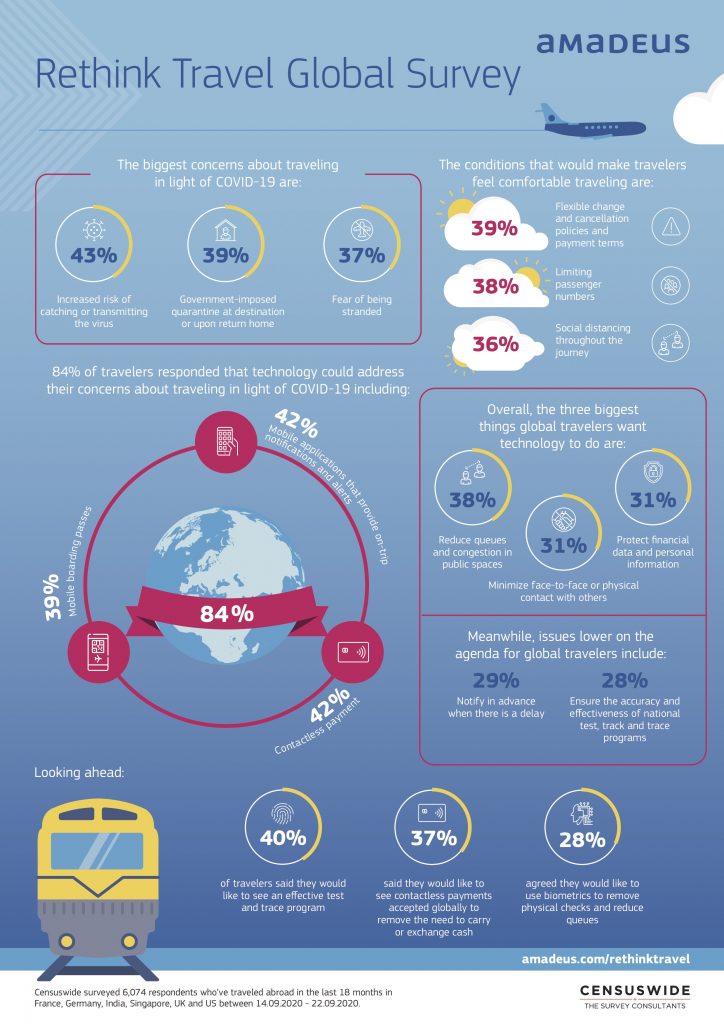 84% of travelers said that technology would make them feel more confident to travel in the next 12 months, especially if it could reduce overcrowding and facilitate social distancing. 38% said that the most important role of travel technology was to reduce queues and congestion, while 31% said that it should reduce the need for face to face contact.
We also asked travelers to name specific examples of technology that would make them more likely to travel. 42% mentioned location-specific apps that could inform them of localised outbreaks and keep them up to date with changing regulations. A further 42% said that they would be relying on mobile payment services such as Google Pay and Paypal to reduce the need for physical contact when traveling.
Interestingly, the results varied a great deal by age and location. Older travelers tended to be more cautious. 47% of Baby Boomers said that they would need to socially distance throughout their journey to feel safe, compared to just 27% of Generation Z respondents. Respondents from Singapore were especially keen on contactless technology, while those from India favoured local safety apps. This demonstrates the need for personalised service in the post-COVID world.
While there is a lot of work to be done, the survey is good news for the industry. It shows that, by taking specific measures, companies can encourage people to travel again. Christophe Bousquet is our Chief Technology Officer. He explains why this is cause for optimism:
"This research provides a source of optimism for the industry as many of the travelers' concerns can be addressed by technology available now, at every stage of a traveler's experience. Whether it is new mobile applications, biometrics or contactless solutions, we need to explore together as an industry and with governments how best to accelerate adoption if we are to encourage global travel, which is a major driver of global prosperity."