Last Updated on: 22nd November 2023, 12:21 am
FORGET FANCY FILLINGS, AS BRITS VOTE THE TRADITIONAL ENGLISH RECIPE OF LEMON AND SUGAR THE TASTIEST PANCAKE TOPPING
Researchers surveyed 2,000 pancake lovers, ahead of Shrove Tuesday, and revealed the large majority of Brits still prefer their pancakes the traditional English way, with a squeeze of lemon and a sprinkling of sugar.
Thinner and larger in radius to the American style, English pancakes started to appear in cookbooks as early as the 1400s, traditionally with lemon and sugar to sweeten them.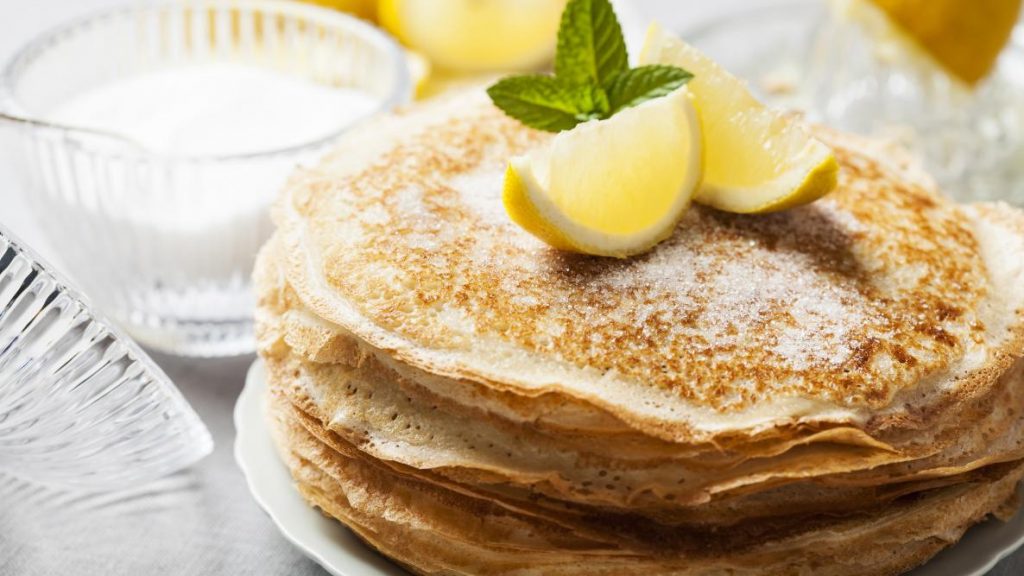 Toppings from other countries, such as chocolate spread, maple syrup and marshmallows have become more popular in recent times, however a resounding 61 percent of those surveyed said they prefer it the traditional way.
More than 135 million pancakes will be scoffed on Tuesday, an average of seven pancakes per household, according to the research.
But while six in ten are traditionalists, chocolate spread and strawberries came in second place (23 percent) of the best toppings list, followed by chocolate spread with banana.
A more American style combo of bacon with syrup is also popular (11 percent) while a savoury loving six percent opt for cheese and ham.
Yet the nation is divided when it comes to how to turn a pancake, with a gung-ho 49 percent saying the only way is to flip it in the air, and 51 percent more cautiously turning it in the pan.
One in two (47 percent) would like to be more adventurous with their filling and topping choices, yet a third (37 percent) hadn't considered peanut butter as a partner for pancakes.
Whole Earth commissioned the survey for its squeezy peanut butter – Drizzler – perfect for drizzling over pancakes. But despite peanut butter ranking as one of the UK's most popular spreads, it fell outside of the nation's favourite pancake toppings.
Nicola Turner at Whole Earth said: "Our research reveals the nation is divided when it comes to pancakes. We are getting more adventurous when it comes to recipes, but the nation is missing out, as peanut butter isn't enjoying the spotlight it deserves."
Asked what they think of people who don't flip their pancakes, a half (48 percent) say they are missing out on all the fun, one in three (28 percent) believe they need to throw caution to the wind while a quarter (22 percent) think they are missing the point of Pancake Day.
Whole Earth has teamed up with TV chef, Simon Rimmer, to encourage Brits to enjoy peanut butter on their pancakes and help win its place in the nation's favourite toppings, by squeezing more out of Pancake Day with his Simon Rimmer's Pancake Day Winners recipes.
The pancake capital of the UK is LONDON, where people will eat an average of eight, followed by Leicester (7.6), Liverpool (7.4), Oxford (7.4) and Sheffield (7.3).
A third (30 percent) of the nation's parents admit to feeling under pressure on Pancake Day.
The secret, according to those polled, is to make enough batter (52 percent), never underestimate the number of pancakes everyone will eat (35 percent), lubricate the pan (33 percent) and use a decent saucepan (33 percent).
A third (30 percent) think the secret is to have enough toppings, while one in four (25 percent) would never cheat and buy a batter mix.
One in five (20 percent) always make their batter in the morning and refrigerate it.
For Simon Rimmer's Pancake Day Winners, and more information about Drizzler squeezy peanut butter, head to www.wholeearthfoods.com
THE NATION'S TOP 10 PANCAKE TOPPINGS
Lemon and sugar 61%
Chocolate spread and strawberries 23%
Chocolate spread and banana 20%
Banana and syrup 14%
Bacon and syrup 11%
Chocolate spread and marshmallows 10%
Blueberries and syrup 10%
Cheese and ham 6%
Peanut butter and banana 6%
Peanut butter and chocolate spread 5%
Research of 2000 UK based adults commissioned by Whole Earth and conducted by Perspectus Global in February 2023.
Want to make them ?
Lemon and sugar pancakes recipe
STEP 1

Put 100g plain flour, 2 large eggs, 300ml milk, 1 tbsp sunflower or vegetable oil and a pinch of salt into a bowl or large jug, then whisk to a smooth batter.

STEP 2

Set aside for 30 mins to rest if you have time, or start cooking straight away.

STEP 3

Set a medium frying pan or crêpe pan over a medium heat and carefully wipe it with some oiled kitchen paper.

STEP 4

When hot, cook your pancakes for 1 min on each side until golden, keeping them warm in a low oven as you go.

STEP 5

Serve with lemon wedges and caster sugar, or your favourite filling. Once cold, you can layer the pancakes between baking parchment, then wrap in cling film and freeze for up to 2 months.

Ingredients

100g plain flour
2 large eggs
300ml milk
1 tbsp sunflower or vegetable oil, plus a little extra for frying
lemon wedges to serve (optional)
caster sugar to serve (optional)