Sir David Attenborough and Stephen Fry are among the two people Britons would most like to invite around to their house for Christmas dinner, according to a new survey.
The British Prime Minister, Theresa May has climbed the ranks from last years survey, coming in as the nations 5th most desired guest from 16th position in 2017.
Jesus Christ, Sir Winston Churchill, Father Christmas, Prince Harry and The Queen all hold a stake in the top ten desired guests.
National treasure, Sir David Attenborough will come as no surprise as the most desired guest, his work as a broadcaster and natural historian is loved by millions in the UK.
Businessman Sir Richard Branson was surprisingly voted the least favourite guest, followed by Paul O'Grady and Princess Diana.
45th and current President of the United States, Donald Trump is in high demand this year, staking 9th position — presumably to provide the laughs — for the guests.
The survey was carried out by Aurora Market Research, who asked 2,000 UK adults who would be their favourite Christmas Dinner guest this year.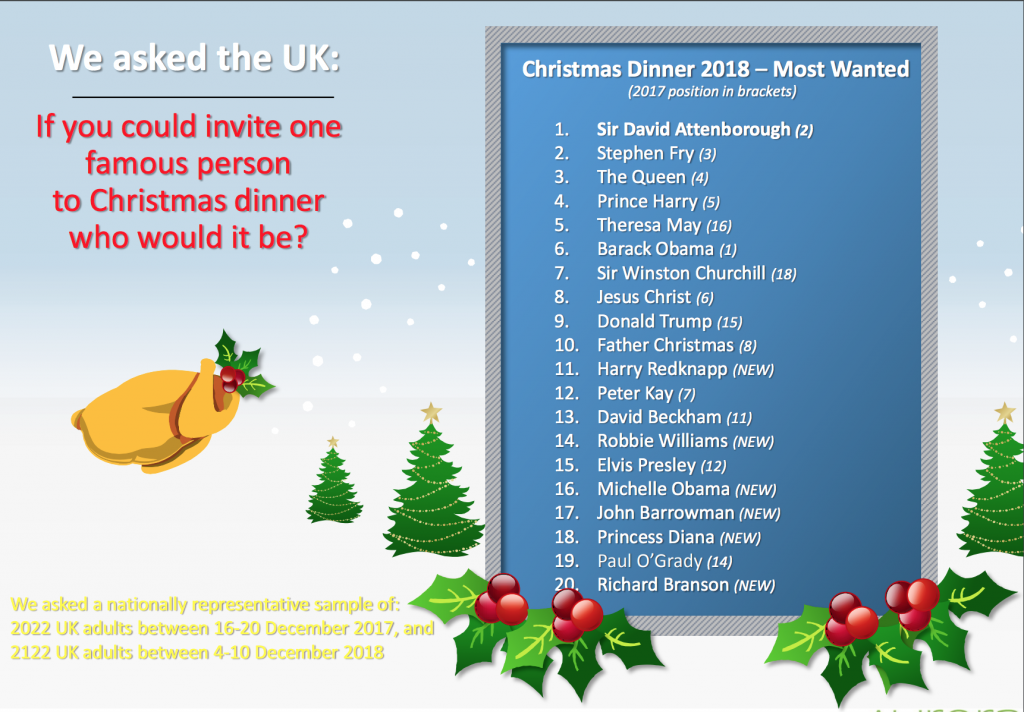 Full: Christmas Dinner 2018 – Most Wanted
1. Sir David Attenborough (2)
2. Stephen Fry (3)
3. The Queen (4)
4. Prince Harry (5)
5. Theresa May (16)
6. Barack Obama (1)
7. Sir Winston Churchill (18)
8. Jesus Christ (6)
9. Donald Trump (15)
10. Father Christmas (8)
11. Harry Redknapp (NEW)
12. Peter Kay (7)
13. David Beckham (11)
14. Robbie Williams (NEW)
15. Elvis Presley (12)
16. Michelle Obama (NEW)
17. John Barrowman (NEW)
18. Princess Diana (NEW)
19. Paul O'Grady (14)
20. Richard Branson (NEW)