New business will bring 30 jobs to the area
Pizza lovers are in for a treat with the opening of a new PizzaExpress at the Waterfront in Walsall. The restaurant, which can seat 190 people, means jobs for 30 new team members, including 8 pizzaiolos and 15 waiters and waitresses. During the first month, the team will serve up 3,000 pizzas and 4,000 portions of PizzaExpress' iconic Dough Balls.
Each PizzaExpress restaurant is individually designed – often using well known places, people or historical events from the area as the basis. Artwork at the new restaurant has been inspired by the famous Walsall Illuminations, a festival of light which dates back to 1875 when candles were placed in coloured jars. Vibrant carousel lights and glowing jars create a warm welcome to the restaurant, and solid oak, rich red upholstery, marble and zinc feature throughout.
Aleks O'Shea, manager of PizzaExpress Walsall, said, "We have a beautiful new restaurant and can't wait to show it off to our customers. We have a friendly and enthusiastic team who are looking forward to welcoming everyone over a delicious pizza."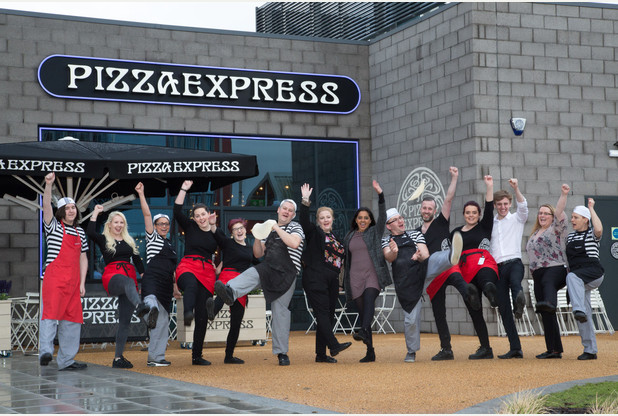 The opening coincides with the introduction of new seasonal specials such as a macaroni and cheese style Pennette Formaggi, hot spiced beef Calzone Diavolo and Treacle Tart Cheesecake.
For younger pizza-lovers, PizzaExpress' Piccolo menu is full of tasty choices including 'Create Your Own' pizza, and starts at just £3.95.