Keurig® is the #1 single-cup brand in North America* and now provides beverage brewing systems for commercial use in the UK. Here, they look at why investing in staff wellbeing should be a priority, and what businesses can do to help reap the rewards of a productive and enjoyable office environment.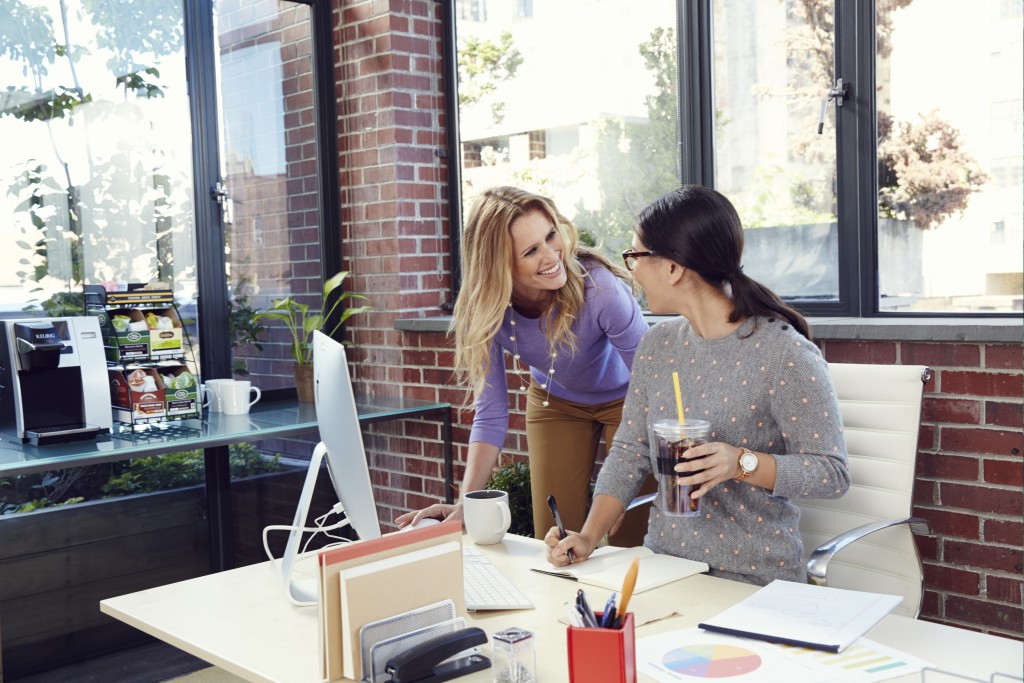 Since our first Keurig® brewing system entered the office space in 1998, we've had the chance to take a look into offices across the globe – large, small, and microscopic. As a result, we've come to believe that the success of a business is often intimately tied to the satisfaction of the employee. Today, others are starting to believe that, too. Businesses today are dealing with an increased focus on providing the best possible working environment for employees and for good reason: happy, healthy employees make for a happier, healthier workplace. Staff wellbeing is vital, and investing in it helps employees to work in creative and collaborative environments, finding new, innovative ways to make the business better. Wellbeing is also fundamental to productivity and will impact on your overall business results. Ultimately, employees want workspaces where they can engage with others and feel comfortable bringing their best self to work.
Here are some relatively easy, actionable tips to consider that may well improve wellbeing, morale and productivity for your employees.
Design
Take a moment to see if your office design should reflect your company's culture and brand values. Value collaboration and team work? Invest in spaces where colleagues can mingle and share ideas outside of meeting spaces. Value transparency? Design glass into boardroom walls.
Get Moving
Sitting at a desk for prolonged periods can cause stiffness, back pain and muscular problems. Buy furniture that encourages people to get moving like adjustable desks or sit-stand stools? Even a dart board in the break room can get people moving so their pain lessens and their energy and focus improves.
Lighting
As discussed in Psychology Today, it is proven that exposure to natural light increases productivity. Place desks or working spaces close to windows, where appropriate. Employees with outside views are likely to be more productive.
Plants
Plants in the workplace immediately improve the look and feel of the environment. But did you know that they also work behind the scenes to release oxygen and absorb carbon dioxide?
So, by putting a few plants around the office, you will be helping to clean the air that circulates your building, and potentially contribute to the good health of your employees.
Sound
Noise is an unwanted distraction in offices and a major cause of employee dissatisfaction. Phones ringing, loud conversations, and general background noises can affect people's concentration and mood.
The good news is that this can be easily addressed through design. It's not a good idea to put a general use office phone in the middle of an open plan office, or position desks near entry or exit points with people walking past them.
It's important to get the balance between having open and closed spaces. Also, why not use surfaces that absorb acoustics, and use furniture that reduces noise, rather than promotes it?
Colour
Colour will always get the creative juices flowing. For example, blue has been shown in studies to boost creativity. Introducing splashes of colour, art, and greenery can all contribute to employee wellbeing.
Relax
Also, consider introducing break-out or relaxation areas where people can go to get away from their desks, get a change of scene, unwind or think creatively. It may be a patio area or a dedicated break room, complete with free coffee.
Work Benefits
Little perks are a great way of retaining staff loyalty. Keep the doctor away by offering your employees free fruit, to help them towards their five-a-day. Order fruit in every Monday to last the week and give them a suitable kitchen area to prep the fruit.
To accompany snacks, consider providing a coffee machine in the office. Most employees, and potential employees, would agree that a high-quality drink offering shows that a business is dedicated to the wellbeing and happiness of their staff, and is determined to create a working environment that's comfortable.
Small or large, any business is likely to benefit from a coffee machine. Employees will recognise the gesture of goodwill they are receiving. They will no longer need to take the time to go outside and visit the local chain café and can spend that time being productive at work.
But if it's a chain coffee they want, that's now possible with modern day brewing machines, designed for the office, which can serve hot drinks from leading brands in seconds.
Finally, it's important to bear in mind that people are naturally resistant to change, even if it's in their best interest. You might have identified numerous wellbeing factors, carried out background research, engaged with all stakeholders and started the ball rolling. And yet, some staff might not be fully open to these changes. Give it time and keep open to feedback.
As a business, you should spend time understanding your culture and vision, and design a workspace that incorporates your brand and promotes that all-important sense of wellbeing.